Proposed airline coordination did not affect competition
In 2014, Qantas and China Eastern sought authorisation to coordinate some of their operations between China and Australia, including offering a codeshare on some of each other's flights.
A draft decision published by the Australian Competition and Consumer Commission (ACCC) proposed to deny authorisation. It was concerned that there would be a lessening of competition between Qantas and China Eastern that would outweigh any benefits from the proposed coordination.
Greg Houston and Luke Wainscoat prepared a report for Qantas reviewing economic aspects of the ACCC's draft decision, examining in particular:
whether the parties were constrained in the provision of their services between Australia and China by operators of indirect services; and
whether the proposed coordination was likely to enhance the ability and/or incentive of the parties to restrict or limit capacity on routes between Australia and China in order to raise average fares.
Our analysis showed that indirect services were likely to be a strong competitive constraint on the direct services of Qantas and China Eastern because:
airlines had a strong incentive to market their indirect services, to support their hubs and reduce variable costs, and were doing so to a substantial extent;
indirect flights were offered at a significant discount to direct flights, and could be a significant competitive alternative, even if they were less convenient;
passengers could make use of a large amount of spare capacity on indirect routes; and
available data were not consistent with competition being limited to direct routes, because prices were not higher when there were fewer airlines offering direct flights – for flights in the week presented below, there is no systematic relationship between ticket prices and the number of operators of direct services.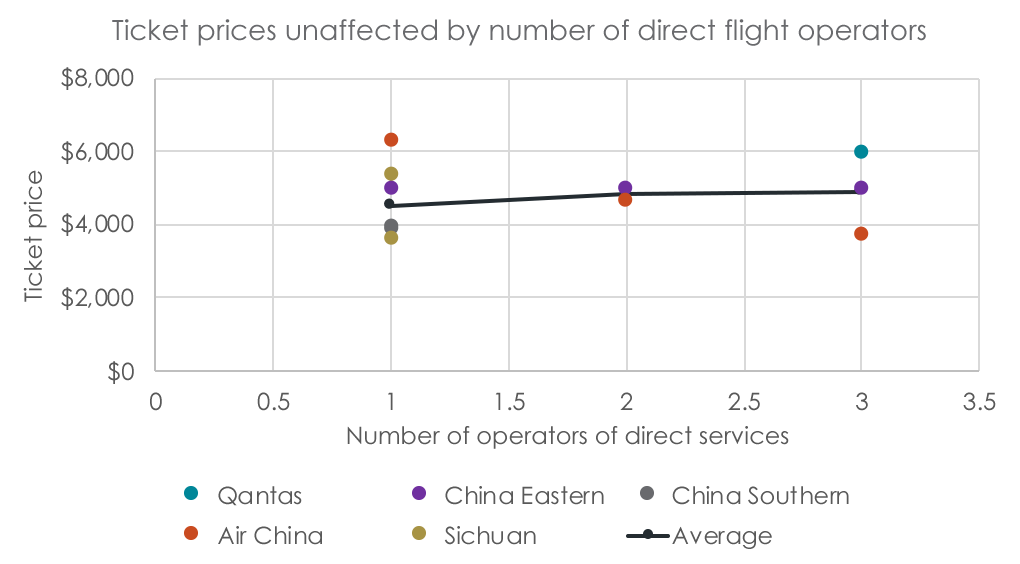 Our analysis also showed that the proposed coordination was likely to have two effects in relation to the use of and investment in capacity on routes between Australia and China, ie, it would:
enhance the ability and incentive of both Qantas and China Eastern to meet any increase in demand through better utilisation of existing capacity; and
reduce the risk to either party of expanding capacity and so enhance the incentive for investment in new capacity, thereby bringing forward the point in time at which such increased capacity is likely to be deployed.
The ACCC subsequently decided to approve the authorisation, subject to certain conditions.